Product
Installation instruction:
The installation of teh Cloverleaf sunshade stand takes only few instants and does not require any tools!

Installation Guide Download.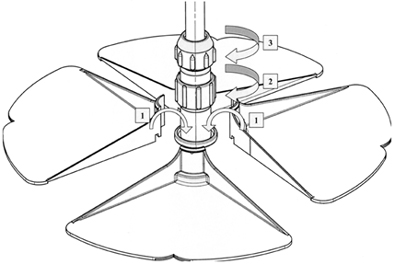 The sunshade stand consits of 5 single components of robust and durable plastic which are put together with a few hand grips. You only have to arrange the 4 heart-shaped segments (1) around the cylinder in the groove and fix the screw (2) by hand. Put the pole of your sunshade into the cylinder and fix the upper screw (3). Ready!
The base of the Cloverleaf sunshade stand looks like a four-leaved cloverleaf and gives our sunshade stand its name.
Advantages of the Cloverleaf sunshade stand opposite to conventional sunshade stands:
The traditional sunshade stands that are sold on the market often show deficiencies regarding steadiness or design and especially regarding flexibility in handling and transport. The Cloverleaf sunshade stand is designed in a practical manner to serve different functionalities. For transport the sunshade stand can be decomposed space-savingly as shown in the below figure. It thereby can be carried without problem in the hand. The weight of the stand is very low: only about 500 grams. Put together and connected with a sunshade the entire steadiness and power of the Cloverleaf sunshade stand occurs.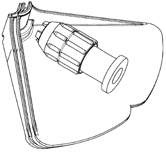 Through the inimitable and patented clamping bushing inside of the cylinder the stand is fixed perfectly and can not jiggle.
Additinal option! Usage as a small table:
The sunshade stand offers the additional function of usage as a small table for teh garden. Therefore a second Cloverleaf sunshade stand is fixed inverse at the pole of the sunshade so that the bottom side of the second base points top (see figure below). In this manner a small table results taht you can use as a rack for your drinks, icecream, sunglasses, etc.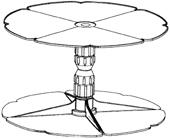 You will find examples for the convenient use of the Cloverleaf sunshade stand under Gallery.